News
A record number of Hungarians will compete in the Memorial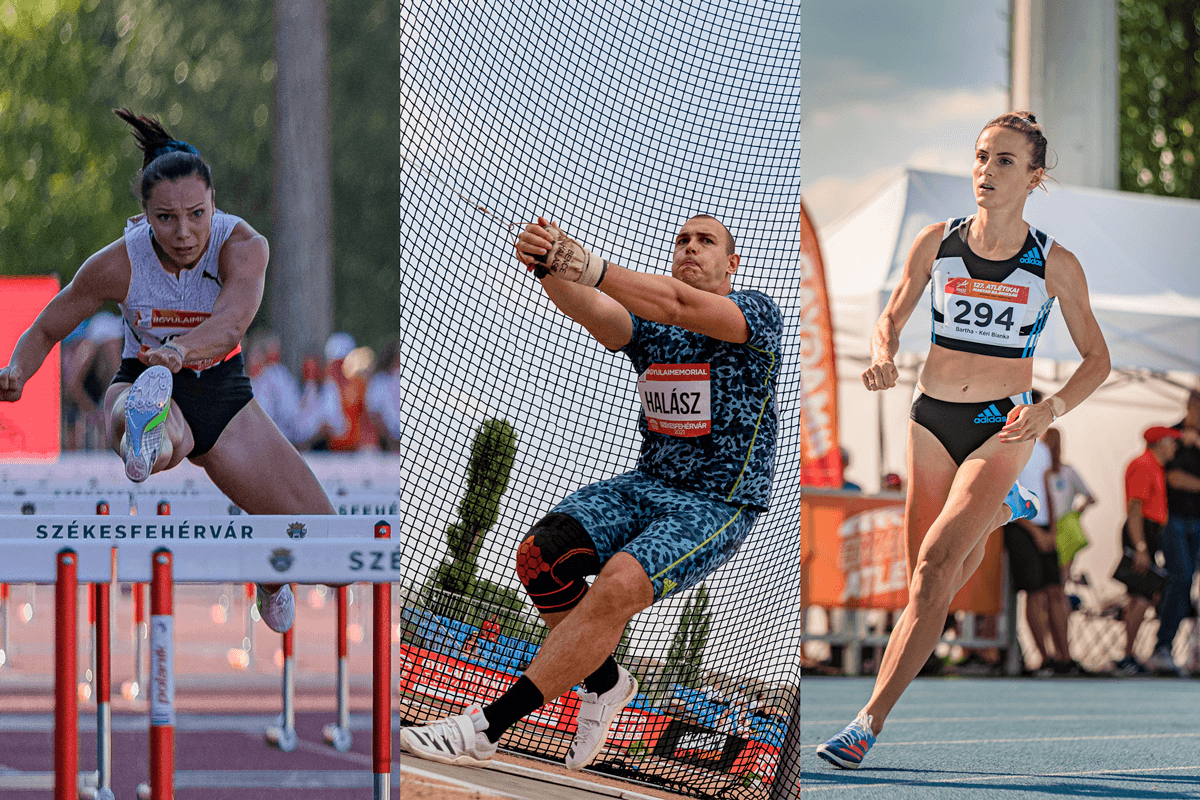 46 domestic athletes can compete in front of a full house on 8 August at the Gyulai István Memorial – Hungarian Athletics Grand Prix. Here are the athletes to cheer for on Monday at the venue or through the M4 Sport broadcast!
The two-time Hungarian champion of the men's 100 meters, Dominik Illovszky, who qualified for the World Indoor Championships at just 20-year-old in March, will compete in the fastest man's race again. His compatriot, Márk Pap was even faster than him this year. His 10.25 seconds time was last bettered by a Hungarian sprinter in 2004. However, in Székesfehérvár, we will see him running at 200 meters, not 100 meters.
The same is true for Tamás Máté who can look forward to the competition as the best national athlete in the half-lap race. Like the above mentioned athletes, Zoltán Wahl, another member of the young sprinter generation, won the U23 national championship barely a month ago. Attila Molnár, who is also only 20 years old, will run in the 400 meters on Monday night, In this event he was undefeated in the national championships in 2021 and 2022 respectively. 
In the 800 meters, five Hungarian athletes with great skills will also be in the field. Balázs Vindics can look forward to the Memorial as the Hungarian indoor track record holder, a four-time outdoor and nine-time indoor national champion and former indoor WCH competitor. Dániel Huller, who also qualified for the European Championships in Munich, ran an U23 Hungarian record of 1:45.53 a few weeks ago in Pápa, showing his talent again after a period full of injuries.
Gergő Kiss became the Hungarian champion in the 800 m in a huge race at the end of June. Now we will cheer for him, as well as his Veszprém teammate, István Szögi whose main event, the 1500 meters will not be organized this time so he will also start in the 800 m. Máté Együd will be a pacemaker.
In the 110-meter hurdles we will see all three of our international level competitors. Valdó Szűcs, Bálint Szeles and Dániel Eszes will compete against two-time world champion, Grant Holloway. In discus throw, János Huszák and Róbert Szikszai can tune in to the European Championships with opponents such as the three most recent world champions: Kristjan Ceh, Daniel Stahl and Andrius Gudzius. 
The highest-level field awaits our athletes in the high jump and pole vault. In the former, besides Péter Bakosi and Csaba Horváth, who share the 2022 Hungarian championships title, we can also find Dániel Jankovics and Gergely Török on the entry list. Marcell Nagy can jump in the same field with the biggest world star of the sport, Armand Duplantis who, along with Renaud Lavillenie and Thiago Braz, will strengthen the camp of Olympic champions in what we hope will be a competition as long as possible.
As Bence Halász, a club member of 80-meter throwers, said after winning his fifth Hungarian championships title in a row, the level of hammer throw in Hungary has not been as high as this summer. Olympic champions Krisztián Pars and Dániel Rába will compete as European Champs qualifiers. Bence Pásztor, Donát Varga and Gábor Czeller will also participate in the event.
What Shelly-Ann Fraser-Pryce in the 100 meters and Shericka Jackson in the 200 meters mean to the Jamaicans, Boglárka Takács and Jusztina Csóti mean to us in the shortest sprint events. Both can gain valuable results on Monday. The same is true for Bianka Bartha-Kéri, who is warming up for the European Championships in Székesfehérvár in the 800 meters. She wants to run the best possible time in the two-lap distance along with Anna Ferencz and Hédi Heffner. The youngster Regina Mohai can help them achieving it, as she will be the rabbit in the competition.
Certainly, Luca Kozák, establishing new Hungarian record at the Memorial in 2020, will not be left out of the participants in the 100-meter hurdles, just as her opponent, Gréta Kerekes who will also run with the best. We are eagerly waiting to see what kind of performance Jasmine Camacho-Quinn, Kendra Harrison or Nia Ali will bring out of them. In the 400-meter steeplechase the Hungarian champion and U23 national record holder Janka Molnár will also be on the field.
In addition to the men's hammer throw, the women's long jump will be the other event in which we can support six Hungarians. Besides Anasztázia Nguyen, Diana Lesti, and Petra Farkas, who are considered the Top 3 of the last 1-2 years, Xénia Krizsán, preparing for the European Championship's heptathlon, and Klaudia Endrész, who has jumped a personal best again after a long time, will also be able to show themselves in front of the home crowd. 
Moreover, Bori Rózsahegyi, who was born in 2007 and won a gold medal in the most successful Hungarian EYOF performance of all time, can jump for the first time in such a strong international field. Previously, at the age of 15, not many athletes could jump to 6.16 meters so it will definitely be worth following her performance.
Réka Gyurátz, who won seven consecutive championship titles in the hammer throw, proved with her best of 71,57 meters this year that she can achieve a very good result in Munich as well. Not only she but also her teammate from Szombathely, Zsanett Németh, with new PB of 66,73 meters, can enter the throwing circle in excellent form.
Réka Szilágyi, Angéla Moravcsik and Fanni Kövér will be the ones we will see for the first time on this year's Memorial. On Monday at 12:45 pm the women's javelin throw will start the extremely exciting program, in which there will be a lot of national athletes to cheer for until the evening.