News
Hammer Throw: KOKHAN Won WITH PB, WŁODARCZYK SEVEN Centimeters (VIDEO)
The 2021 Gyulai István Memorial – Hungarian Grand Prix began with two-time Croatian Champion Anamari Kozul's attempt in the women's hammer throw under great weather conditions at 4 o' clock. Then, Lauren Bruce began the competition with a 70.53 meter throw, then Hanna Malyshchyk followed with 68.01, while Réka Gyurátz introduced herself with 64.12 metres. American Janee Kassanavoid started with 67.57, the world's second ranked Alexandra Tavernier threw 71.29 metres and world record holder Anita Wlodarczyk began with 71.34.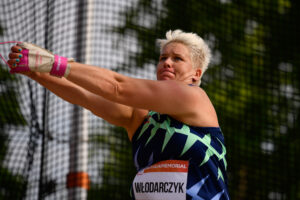 In the second round Polish Malwina Kopron took the lead with 71.72 metres, though it did not last long as her compatriot Wlodarczyk retook the lead with 73.52.
After three rounds Kozul and Irina Klymets were eliminated and the best eight athletes continued. Among those were Hungarian Réka Gyurátz (64.12, 67.26, 69.80) and two-time Olympic Champion Anita Wlodarczyk (74.76).
Tavernier threw 74.69 metres on his last attempt which made it clear that the crowd will witness a Polish victory. Since Kopron finished her series with 74.02, Anita Wlodarczyk took home gold in the opening event beating Tavernier by seven centimetres, while Kopron took home the bronze medal. Hungarian Réka Gyurátz (69.80) finished fifth.
The men's event began with Valeriy Pronkin's 72.64, while Bence Pásztor opened with 69.48 and winner of the Tatabánya Grand Prix Taylor Campbell began the event with 71.80 metres. Dániel Rába took the lead with 74.56 for a few minutes, but Ukrainian Mykhaylo Kokhan quickly jumped to the front of the queue (78.50). Wojciech Nowicki also opened with a strong 77.29 metres while his compatriot Pawel Fajdek started with 76.19. Marcel Lomnicky, Eivind Henriksen and Bence Halász did not register a valid throw in the first round.
Nowicki took the lead with 79.80 metres at the end of the second round, Halász jumped to fourth (74.22) and Fajdek rose to second with 78.78.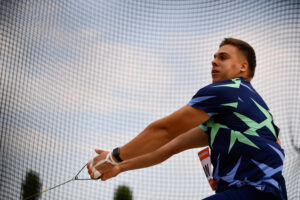 At the end of the third round Lomnicki went out without a single valid attempt, Bence Pásztor (69.48, 70.86, 69.64) also bowed out. Nowicki and Halász kept improving – the former threw over 80 metres (80.52) while the latter achieved his season's best with 78.12 metres.
The fourth round saw Kokhan break his personal record (80.78) which earned him the lead. Nobody has ever achieved such a good result at only 20 years of age.
At the end, Bence Halász finished fourth with his season best, Fajdek finished third (78.78). Although Nowicki improved again (80.58) he could not beat Mykhaylo Kokhan's personal best (80.78). Dániel Rába finished fifth with 74.99.
The event will continue on Tuesday.