News
Sydney McLaughlin rocks, World stars set new Memorial records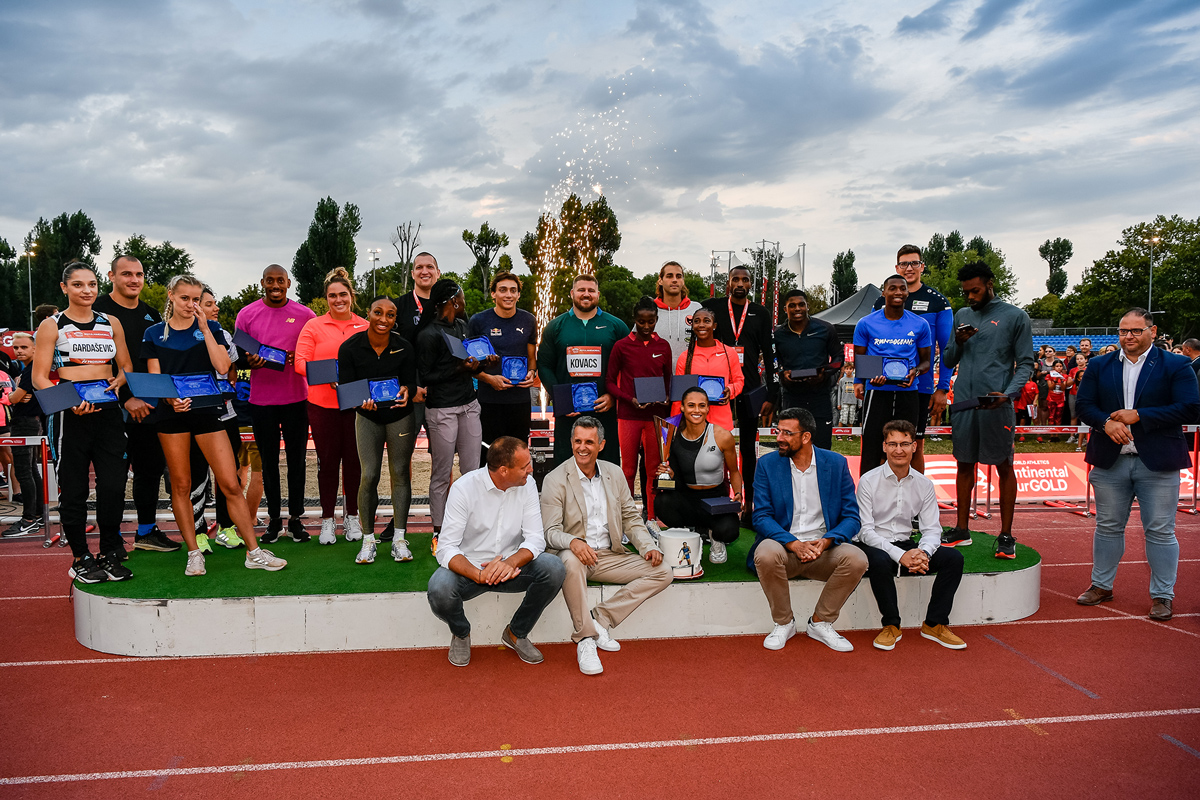 While last year's Gyulai István Memorial – Hungarian Athletics Grand Prix was the 5th strongest athletics competition in the world, this year we got to know the expected world stars of the 2023 World Championships in Budapest. A number of them dazzled the packed Székesfehérvár stadium crowd, who applauded seven plus one record-breaking performances on Monday.
The excitement started early in the afternoon with the women's javelin. The first winner of the day was Cuba's Yulenmis Aguilar, who triumphed with a throw of 61.99m. The best of the three Hungarian competitors was Réka Szilágyi, who finished 3rd with 58.84 metres (SB), ahead of Rio Olympic champion Sara Kolák. Fanni Kövér finished 6th (56.43 m), Angéla Moravcsik 7th (54.65 m).
World champion Brooke Andersen won the women's hammer throw with a 74.84m on her last attempt. The Americans' double victory was completed by World bronze medallist Janee' Kassanavoid (72.58 m). Réka Gyurátz also achieved her best result in sixth place, throwing the hammer 69.25 m.
The ladies were followed by the men in the throwing circle, where Bence Halász, who became a 80m plus thrower at the Oregon World Championships, and the other Hungarian hammer throwers also had the chance to test their strength against the strongest possible opponents. There was also a moment in the exciting competition when the top seed from Szombathelyi Dobó SE was in first place, but ended up in 2nd place with an attempt of 79.44 metres.
The winner was Poland's Wojciech Nowicki, who won the Memorial with a performance of just under 80 metres, 79.96 metres. Five-time world champion Pawel Fajdek finished in 3rd position (79.15 m). Dániel Rába came 6th (73.20 m), Krisztián Pars 7th (72.14 m), Gábor Czeller 8th (71.07 m), Bence Pásztor 9th (68.41 m), Donát Varga finished without a valid attempt.
Unfortunately, Marcell Nagy was injured during the warm-up, so we did not see him in pole vault. Not so the Swedish Armand Duplantis, who is considered the best male athlete in the world today. The Swedish-American world record holder is also very popular in Hungary, and every successful jump he performs is met with huge applause. He jumped in a great atmosphere and triumphed with a new record of 5.80 metres.
He wasn't the only Olympic champion in the field: France's Renaud Lavillenie finished second with 5.70m, while Brazil's Thiago Braz failed in all three of his attempts at 5.45m and was unable to compete.
As the number of spectators in the stands of the Regional Athletics Centre in Bregyo grew, the programme became more and more intense. By the time the heats started, the Székesfehérvár stadium was full for the first time in the history of the race. Every ticket was sold out a week ago, and no wonder, as everywhere you looked, you could see world stars.
The first event was the women's 800m, which was won by Ethiopia's Diribe Welteji in a new race record of 1:59.33. Bianka Bartha-Kéri was 4th with 2:01.58, Anna Ferencz 9th with 2:08.21 and Hédi Heffner 10th with 2:08.61. Regina Mohai took part in the race as a sprinter.
Joe Kovacs, who has Hungarian ancestry, took first place in the shot put with an astonishing throw of 22.89 metres. The two-time world champion American legend virtually destroyed Tom Walsh's competition record of 22.22 metres. After his New Zealand rival's success last year, he returned to New Zealand this year to finish 2nd with 21.93m.
Serbia's Milica Gardasevic won the women's long jump with 6.83m, with Diana Lesti in 4th place with 6.45m, Petra Farkas in 5th with 6.34m, Klaudia Endrész in 6th with 6.24m and Anastasia Nguyen in 7th with 6.10m.
Big favourite Gianmarco Tamberi has competed at the Gyulai István Memorial several times in his career, but this is the first time he has won. The Olympic champion has also recently recovered from a crown virus and was able to reach what he admits is an important milestone in winning this event. The Italian high jumper took first place with 2.24 metres. Among the best Hungarian jumpers were Péter Bakosi (2.18 m – 5th), Gergely Török (2.14 m – 6th), Csaba Horváth (2.10 m – 8th) and Dániel Jankovics (2.10 m – 9th).
There was a great tactical race in the men's 800m, with Nicholas Kiplangat Kebenei coming out on top. The Kenyan crossed the line in 1:45.49. Among the Hungarians, the U23 record holder, Dániel Huller, finished in the top position, coming 5th in 1:46.51. Gergő Kiss finished 7th in 1:46.78, István Szögi 10th in 1:47.89 and Balázs Vindics 11th in 1:47.99. Máté Együd helped the others as a pace runner.
Always smiling and with a charming personality, Shelly-Ann Fraser-Pryce returned to the Memorial after 2021, this time with a victory. The five-time world 100m champion dazzled the crowd with a new race record of 10.67 seconds. Tamari Davis (10.92) and Mujinga Kambundji (10.99) also finished within 11 seconds. Hungarian record holder Boglárka Takács finished 8th in 11.56.
Marvin Bracy won the men's 100m flat (9.97 seconds). In the triple American triumph in the men's 100m, Trayvon Bromell and Elijah Hall finished in the top 3, both in 10.01.
Three world stars of fantastic ability also competed in the women's 100m hurdles, with Olympic champion Jasmine Camacho-Quinn emerging victorious in a new race record of 12.27 seconds. The Puerto Rican's best improved by one hundredth of a second the previous Memorial record of Kendra Harrison, who finished second in 12.49, but was not validated due to a strong tailwind. In 3rd place was Nia Ali, who can still run 12.60 as a mother of three. Gréta Kerekes finished 7th with 13.60, while Luca Kozák unfortunately stumbled in one of the last hurdles and could not finish the race.
New World Champion Kristjan Ceh became the first discus thrower in the history of the Gyulai István Memorial since 2011 to clear the 70m. The Slovenian youngster threw 71.23m on his first attempt to win the competition ahead of 2017 world champion Andrius Gudzius (67.39m) and 2019 world champion and 2021 Olympic champion Daniel Stahl (67.01m).
In the men's 110m hurdles, a bombshell: if only by a photo finish, Jamaica's Rasheed Broadbell beat world champion Grant Holloway. Both men had 13.12 seconds on the scoreboard. In fact, Daniel Roberts, who finished behind them, was only a single hundredth of a second behind. Valdó Szűcs was 5th in 13.69, Bálint Szeles 6th in 13.89 and Dániel Eszes did not compete.
In the men's 400m, Attila Molnár finished 8th with a lifetime best of 46.75 seconds and the event will be remembered for Vernon Norwoods victory. The American sprinter triumphed with 44.96 and he beat Alison Dos Santos (45.11), the recent world champion in the hurdles version of the one-lap race, and Michael Cherry (45.42), the Olympic champion in the relay.
The new queen of athletics, Sydney McLaughlin, wowed the crowd in Székesfehérvár with a sensational run. The 400m hurdles world record holder was back in Europe after three years and, if she did so, she made her appearance memorable with a new race record of 51.68m. No one in Europe has ever run the distance as fast as the superstar, who is celebrating her 23rd birthday.
Hungarian Janka Molnár finished in 5th place with 56.04, just one hundredth of a second off her own U23 national record.
Shericka Jackson, the second fastest 200m runner of all time, was unbeaten in Székesfehérvár two days after her success in Poland. The world champion Jamaican defended her title with a 22.02. Mujinga Kambundji, who competed in two events on Monday afternoon, was second in 22.45, closely followed by Kayla White. Jusztina Csóti finished in 7th position with 24.04.
The final event of the tournament was the men's 200m, where the duel between Erriyon Knighton and Kenneth Bednarek was this time won by the 18-year-old super talent. Bednarek was injured and just jogged to the finish. Knighton's winning time was 19.88 seconds, meaning that István Gyulai Memorial left Székesfehérvár with a fantastic competition record. Tamás Máté finished 6th with a time of 20.88, followed by Zoltán Wahl, who ran a personal best of 21.08.
The Dr. Spiriev Bojidar trophy for the most valuable performance of the day went to Sydney McLaughlin of the USA. The 2023 event is scheduled to take place at the new National Athletics Centre as a test event for the Budapest 2023 World Campionships.