News
The best competition in the world this year is the Gyulai István Memorial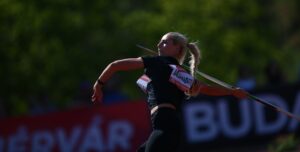 Anna Bogdán's attempt in the women's javelin throw kicked off the second day of the 2021 Gyulai István Memorial – Hungarian Grand Prix in Székesfehérvár. The Hungarian crowd witnessed the first meet record of the day when Elizabeth Gleadle threw 61.90 in the first round. The record did not stand for long as Nikola Ogrodnikova threw 62.20 metres in the second and 62.56 in the third round.
In the last round, Liveta Jasiunaite broke the meet record again with 62.73 metres which won her the gold beating Ogrondikova (62.56) and Gleadle (61.90). The previous record was 61.31 and was set in 2013.
Hungarian Réka Szilágyi (57.55), who is preparing for the Olympics finished fourth, Fanni Kövér (56.17) finished sixth, Angéla Moravcsik (55.32) finished eighth while Annabella Bogdán (45.87) finished ninth.
In the meantime, the heats of the 'How fast you run the 100 metres?' took place. Sofia Emmanuel (13.67) won the beginner women's race, Balázs Zsolnai (13.00) prevailed in the men's beginner category, while his brother, Bálint Zsolnai (11.83) won in the advanced category.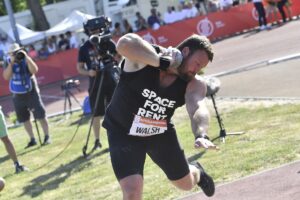 Taliyah Brooks (13.17) won the second heat of the 100 metres hurdles beating Taylori Biedt (13.44), Gréta Kerekes (13.44) and Petra Répási (13.94).
The first heat of the men's 100 metres national competition was won hy Patrik Bondschu (11.20 PB), while Illovszky Dominik (10.70) prevailed in the second heat.
Lili Furulyás(24.77)  won the women's 200 metres Hungarian national race, then Máté Együd (48.59) from TFSE crossed the finish line first in the men's 400 metres. The Hungarian 800 metres women's race was won by Anna Ferencz (2:04.96).
Tom Walsh (22.22) won the men's shot-put setting up a meet record beating Croatian Filip Mihaljevic (21.77) and American Josh Awotunde (21.70).
Stephenie McPPherson took home gold in the women's 400 metres in a tight race beating Wadeline Jonathas (50.70) and Lieke Klaver (51.23). Hungarian Evelyn Nádházi (53.09) finished eighth.
Jamaikan Elaine Thompson-Herah (10.71) was unstoppable in the women's 100 metres as she beat Fraser-Pryce and Ta Lou for the gold medal.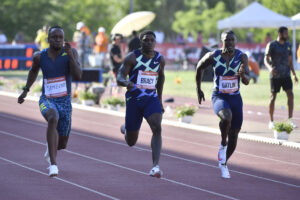 Akani Simbine was fantastic in the men's race – he clocked a new meet record (9.84 PB) getting the better of Michael Rodgers (10.00) and Marvin Bracy (10.12). Gemili came in fifth while Gatlin finished sixth in the wonderful competition.
Maryna Bekh-Romanchuk (6.79) took home gold in the women's long jump finishing ahead of British Irozoru (6.64) and Mironchyk-Ivanova (6.60). Hungarian Anasztázia Nguyen (6.53) finished fourth, Diana Lesti (6.50) finished fifth and Luca Ekler (5.64) finished tenth.
The 100 metres hurdles ended in Puerto Rican victory as Camacho-Quinn was faster than everyone else. Herman (12.67) came in second, Cunningham (12.75) came in third while Hungarian favourite Luca Kozák (12.85) finished seventh.
Femke Bol emerged victorious in the women's 400 metres hurdles with a 52.81 meet record, though she had to suffer for the win in the home stretch as Little (52.85) was closing in on her. Russel from Jamaica came in third.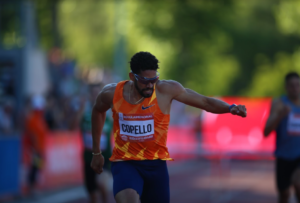 Yasmani Copello also set a new meet record with 48.35 beating his own previous best in Székesfehérvár. He beat Lattin (49.06) and Preist (49.19) for the gold, Hungarian Máté Koroknai (50.11) came in sixth.
Nedasekau from Belarus won the high jump with a new national record and personal best 2.37 metres. Ivanyuk (2.33) from Russia finished second ahead of compatriot Akimenko (2.33). Péter Bakosi (2.24) was ninth, Dániel Jankovics (2.15) was eleventh, Péter Agárdi (2.15) was 13th.
There were two heats in the 110 metres hurdles – the first was won by Paolo Dal Molin (13.31) even though he touched or tipped over most of the hurdles. David King (13.31) finished second, Freddie Crittenden (13.49) finished third while Hungarian Bálint Szeles (13.88) came in seventh beating African Champion Antonio Alkana (13.98).
We witnessed Grant Holloway's (13.08) victory in the second heat who beat Orlando Ortega (13.15) and Sergey Shubenkov (13.19). Valdó Szűcs (13.47) finished fifth.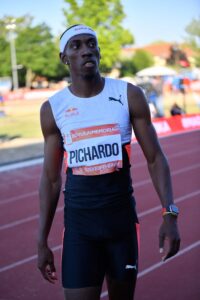 Portuguese Pedro Pichardo started the triple jump with a world leading (17.82) which is a new meet record. Hugues Fabrice Zango also started brightly matching Picardo's result which is his personal best and an African record as well. The answer soon came from Pichardo who jumped 17.92 beating the meet record once more. Zango could not overcome this and finished second while Triki (17.33) from Algeria took home bronze.
Jamaican Shericka Jackson also broke the meet record in the 200 metres which earned her gold. Miller-Uibo (22.15) from Bahama came in second, Dafne Schippers (22.70) finished third.
Akani Simbine won the second heat of the 200 metres after winning the 100 metres. Simbine got the better of Alonso Edward (20.29) and Oduduro (20.38).
De Grasse took home gold after winning the first heat of the 200 metres in 19.97 narrowly beating Bednarek (19.99) and rising star Erriyon Knighton (20.03).
The crowd also witnessed a meet record in the 3000 metres as Muktar Edris set a new personal record with 7:30.96 which is the third best time of the year in this distance. His compatriots Worku (7:34.75) and Yihune (7:39.27) finished second and third respectively.
Swedish giant Daniel Stahl (67.71) won the discus throw ahead of Andrius Gudzius (66.71) and Jamaican Fedrick Dacres (65.08).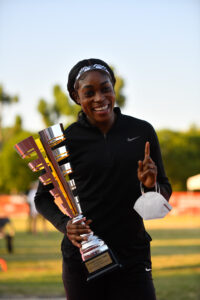 The men's 800 metres ended in British double as Elliot Giles (1:44.89) held off compatriot Jamie Webb (1:45.12) and American Clayton Murphy (1:45.20). Balázs Vindics finished eighth with a season best 1:46.64.
The last event – the men's 400 – went to Steven Gardiner who crossed the finish line first with a season best 44.47 beating Bryce Deadmon (44.58) and Michael Norman (44.65).
The Dr. Spiriev Bojidar Trophy went to Elaine Thompson-Herah, winner of the 100 metres while the best Hungarian was Luza Kozák.
The athletes collectively achieved 93418 points which means that the Gyulai István Memorial was 2021's most successful competition. What a fantastic afternoon!