News
45 nation's athletes will compete in Székesfehérvár
The Gyulai István Memorial – Hungarian Grand Prix's pre-competition press conference was held by the organizing committee at the Hotel Magyar Király. Attila Mészáros, vice-president of Székesfehérvár said that it is a big honour for the city to host the competition and it is a great pleasure that many athletes can now correctly pronounce the town's name.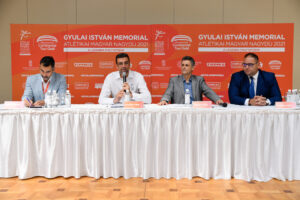 Péter Deutsch chairman of the organizing committee quoted Balázs Baji first, who had some great things to say about the Hungarian Grand Prix a few days ago. He went on to state that the goal in 2011 was to get Hungarian athletics back to its rightful place. He reminisced about the past ten years and highlighted Asafa Powell and Mutaz Essa Barshim's previous performances.
Athletics is coming home – he said, referencing the message of the competition. He mentioned that many of the upcoming Olympic Games' winners will be here in Székesfehérvár. We do not yet know, who they will be, but we are sure that some of them will be here. He also stated that 19 Hungarian athletes will travel to Japan for the Olympics.
Sporting director Attila Spiriev introduced the participating athletes and recalled the first press conference in 2011 when he talked by heart, without any notes. Today, he arrived with a large pile of notes. He said that the Grand Prix had its 10th birthday last year, but we will celebrate this year due to obvious reasons, although the athletics community was very grateful that the Gyulai István Memorial took place last year as well. He emphasized that 45 countries' athletes will take part in this year's competition.
During the press conference, some young athletes from Bonyhád and Székesfehérvár got the chance to ask questions from the biggest stars. One such question was what the athletes received from the sport.
Shaunae Miller-Uibo said she is very grateful to the sport since she was only six when she started and has gotten an enormous amount of joy and happiness from athletics.
Grant Holloway admitted that his first love was athletics and would like to inspire the next generation with his performances.
Steven Gardiner mentioned that he got to travel around the world thanks to athletics and would like to encourage everyone to become an athlete.
Erriyon Knighton revealed that he likes to drink a lot of water the night before races and eats a lot of pasta.
At the end of the press conference, Shelly-Ann Fraser-Pryce, Wayde Van Niekerk and Just Gatlin answered the children's questions.
Shelly thinks that perseverance and getting over failures is extremely important for success, while Wayde said that a lot of work is needed to get to the highest level. Justin said that self-belief is also very important.
As the topic of role models came up, Shelly said that she looks up to her mother, while Wayde first jokingly mentioned that his role model is Justin Gatlin, then said that he looks up to his parents as well. Justin highlighted the previous champions that raced before him and also mentioned his parents as inspiration.
At the end, the athletes were asked to pronounce Székesfehérvár correctly – the improvised competition was won by Shelly Ann Fraser-Pryce.
The recording of the press conference can be rewatched here.