News
They are coming | part 4
In this series, we will introduce the athletes who have already confirmed their intent to participate in the 11th Gyulai István Memorial – Hungarian Grand Prix.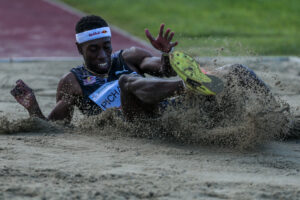 The men's triple jump will feature Portuguese Pedro Pichardo (PB 18.08). The two-time World Championship silver medallist is familiar with the environment, since he won (17.18) the Grand Prix – as a Cuban citizen – in 2013 beating Will Claye (17.17) and Christian Taylor (17.16). Interestingly, only once centimetre was the difference between each medallist that year. In 2019, the trio competed against each other again, but this time, Taylor (17.93, +3,4) emerged victorious. His compatriot, Clay came in second (17.66), while Pedro – this time representing Portugal – finished third (17.29). He finished third last year as well (17.28) behind Hugues Fabrice Zango (17.43 WL) and Christian Taylor (17.34). His motto on Instagram reads "Never give up".
Ilya Ivanyuk's (PB 2.37) participation will strengthen the high jump field. The World Championship bronze medallist Russian is second on the world rankings and is the reigning indoor and outdoor National Champion, but has also won an U23 European Championship, a Diamond League and the Military World Games.
African Champion and African record holder Antonio Alkana (PB 13.11) will participate in the 110 metres hurdles. The South African hurdler is an eight-time National Champion and he will compete against Hungarian record holder Balázs Baji and Valdó Szűcs, who finished third (13.72) at the Continental Tour Gold's Adidas Boost Boston Games in May. Valdó lost against Grant Holloway and Shane Brathwaite, but beat world record holder Aries Merritt.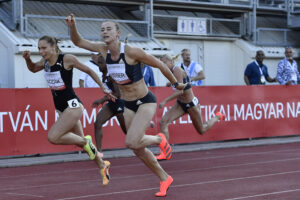 Olympic qualifier Luca Kozák, Hungarian national record holder of the 100 metres hurdles will attend the event as well. She has been performing extremely well this year: in May, she qualified for the Olympics in Savona, Italy. She cannot complain about last year's performances either since she broke the national record at the Gyulai István Memorial in Székesfehérvár.
In the 800 metres World Championship bronze medallist, Kenyan Ferguson Cheruiyot Rotich (1:42.54) and World Championship fifth place finisher Wesley Vázquez (PB 1:43.83) will go up against each other. We hope that Balázs Vindics (PB 1:46.18) will battle with them for first place. Balázs is currently on pace to qualify for the Olympics and we will see him in Tatabánya at the first stop of the Hungarian Grand Prix series.
On July 6, we can check out the form of Akani Simbine (PB 9.89) – currently third on the world rankings. The World Championship fourth place finisher was fourth (10.50) at the Gyulai Memorial in 2014 when Kim Collins came in first (10.31). In 2016, the roles were reversed: he won and Kim finished fourth. In 2017 he finished second (9.99) behind Justin Gatlin (9.98) and in 2018, he was third (10.21) behind Michael Rodgers (10.12) and Arthur Cissé (10.17). It is no surprise that he is a regular in Székesfehérvár, since he ran his personal record here.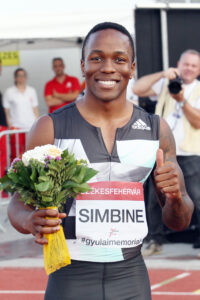 The women's and men's hammer field got bigger as well. World Championship fifth place finisher Ukrainian Iryna Klymets (PB 73.56) will compete in the women's field while her compatriot, fellow World Championship fifth place finisher and former U20 European Champion Mykhaylo Kokhan (PB 77.78) will feature in the men's field. Eivind Henriksen (PB 78.25), who is currently sixth on the world rankings will compete as well.
World Championship silver medallist long jumper, Shara Proctor (PB 7.07), five-time Diamond League winner and four-time British Champion will also return.
The women's 400 metres will feature World Champion silver medallist Laviai Nielsen (PB 50.83) and Dutch indoor European Champion Lieke Klaver (PB 50.98) who will try to upset Wadeline Jonathas (PB 50.83).
Elijah Hall indoor USA record holder will try to beat Aaron Brown, who previously confirmed his participation.
Ethiopian Tadese Worku (PB 7:41.06) will compete in the 3000 metres. He broke his personal best indoors this year in Liévin, France.
The previous parts of the series can be found here: